Keto food can be just as easy and quick like this soup.
This soup proves that keto food can be just as quick and easy as it is deeply satisfying. A silky, smooth broth with fried bacon, cauliflower and nuts finished with a salty snap.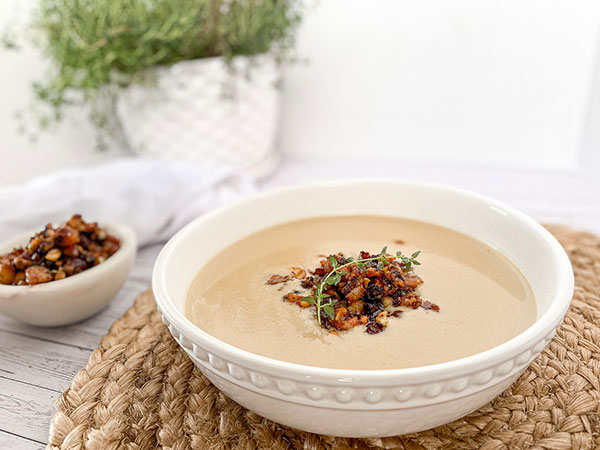 Keto Cauliflower Soup With Crispy Bacon
Prep Time
30

minutes
mins
Ingredients
4

cups

chicken broth or vegetable stock

1

lb

cauliflower

1

tbsp

butter, for frying

7

oz

cream cheese

1

tbsp

Dijon mustard

4

oz

butter

7

oz

pancetta or bacon, diced

1

tbsp

paprika powder or smoked chili powder

3

oz

hazelnuts

1

tbsp

onion powder
Instructions
Trim the cauliflower and cut into smaller florets. The smaller you cut them, the quicker the soup will be ready.

Save a handful of fresh cauliflower and chop into tiny 1/4 inch bits.

Sauté the finely chopped cauliflower (from step 2) and pancetta or bacon in butter until crispy. Add nuts and paprika powder towards the end. Set aside the mixture for serving.

Meanwhile, boil the cauliflower florets in the stock until soft. Add cream cheese, mustard and butter.

Mix the soup, using an immersion blender, to desired consistency. The longer you blend, the creamier the soup. Salt and pepper to taste.

Serve the soup in bowls, and top with the fried pancetta mixture.
Notes
Tip!
Like variety? Then change the pecans out for your preferred nut and seed mix. And if you run low on stock, then there's no fear. Replace it with lightly salted water.