This low-carb strawberry smoothie tastes like a strawberry milkshake and is an easy breakfast or snack option. It's creamy, sweet and delicious, loaded with vitamins, nutrients and antioxidants. Made from just a handful of ingredients including strawberries, cream cheese, it's one of my favourite healthy smoothie recipes.
This Smoothie can be part of a keto, low-carb, Atkins, gluten-free and grain-free diet. Its high-fat content makes it a filling option for any sugar cravings.
Drink it as a refreshing treat or take it with you for an easy on-the-go breakfast.
This recipe is one (if not the most) of my favorite ways to curb that sugar craving, specially handy during hot summer afternoons where everything you want is to indulge on an ice cream. The ingredients are simple and there are a few replacements you can do but have in mind that replacing main ingredients will change the flavour.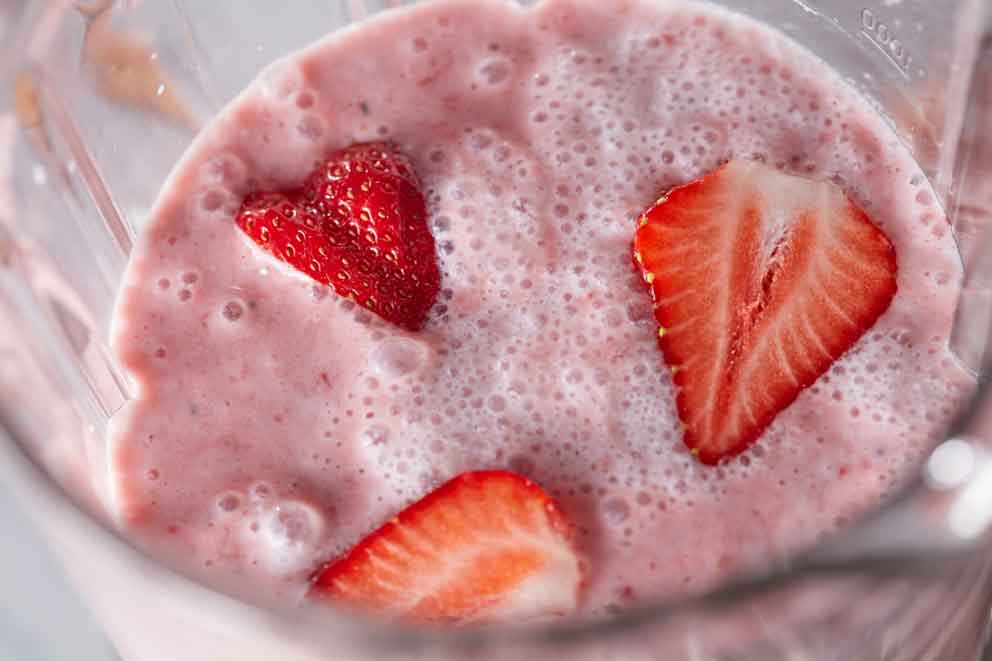 Health benefits and micronutrients
Strawberries are so sweet even with low levels of sugar. Also, contain a lot of vitamin C for your diet.
Recipe tips
Substitutions
MCT Oil – If you don't have any MCT oil that's totally fine, you can replace this with coconut oil, or any fat you like.
Strawberries – You can add any berry that will work (blueberry – you can also try this Blueberry Smoothie Recipe, blackberry, raspberry) and will have a similar carbohydrate content.
Milk Alternatives – You can use a diversity of unsweetened "milk" like almond milk, unsweetened coconut milk, etc. Find milk you like, and use that.
Keto Strawberry Cheesecake Smoothie
The Best Low-Carb Strawberry Smoothie for a quick and easy breakfast or snack.
Ingredients
1

cup

Almond Milk, unsweetened

1/4

cup

Frozen Strawberries

2

oz

Cream Cheese

2

tbsp

Heavy Cream

1

tbsp

MCT Oil

2

tbsp

Powdered Sweetener Monk Fruit or Stevia (test the sweetness)

2

Ice Cubes

1/2

tsp

Vanilla Extract
Instructions
Add all ingredients to a blender.

Blend on high until you have a smooth consistency.